Themes » Education Zone Pro
---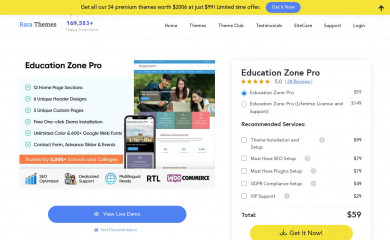 "Education Zone Pro is a beautifully designed premium WordPress theme made for Educational Institutions and Colleges. The theme is highly customizable, easy to use and allows you to seamlessly build a professional looking website. The theme features plenty of room for educational information, custom post types, events and custom pages to communicate the message to the visitors. Leverage the power of the theme to build your institution website that offers a clean, professional design and features to professionally communicate your message to your prospective students. Check the demo at https://rarathemes.com/previews/?theme=education-zone-pro, documentation at https://docs.rarathemes.com/docs/education-zone-pro/ and get support at https://rarathemes.com/support-ticket/."
-
Rara Theme
(theme author)
Theme Details
---
| | |
| --- | --- |
| Websites Found | 227 |
| URI | rarathemes.com/wordpress-themes/education-zone-pro/ |
| Version | 2.6.3 |
| Author | Rara Theme |
| Author URI | rarathemes.com |
| License | GNU General Public License v2 or later |
| Tags | blog, two-columns, right-sidebar, footer-widgets, custom-background, custom-menu, custom-header, featured-image-header, featured-images, post-formats, threaded-comments, translation-ready, full-width-template, education, theme-options |
Popular Sites
---
We crawl the top 1+ million sites and these are the most popular websites we've found using the Education Zone Pro WordPress theme.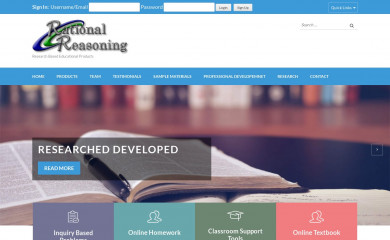 rationalreasoning.net oneamazingclass.org rsplus-lingenfeld.de fedponam.edu.ng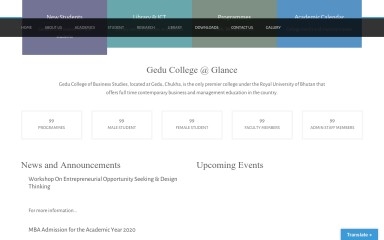 gcbs.edu.bt pimajted.foundation
Websites Per Theme Version
| Version | Websites | |
| --- | --- | --- |
| 2.6.3 | 1 | 0.441% |
| 2.6.2 | 6 | 2.643% |
| 2.6.1 | 5 | 2.203% |
| 2.6.0 | 2 | 0.881% |
| 2.5.9 | 3 | 1.322% |
| 2.5.8 | 11 | 4.846% |
| 2.5.7 | 25 | 11.01% |
| 2.5.6 | 6 | 2.643% |
| 2.5.5 | 16 | 7.048% |
| 2.5.4 | 9 | 3.965% |
| 2.5.3 | 10 | 4.405% |
| 2.5.2 | 16 | 7.048% |
| 2.5.1 | 3 | 1.322% |
| 2.5.0 | 2 | 0.881% |
| 2.4.9 | 11 | 4.846% |
| 2.4.8 | 9 | 3.965% |
| 2.4.7 | 5 | 2.203% |
| 2.4.6 | 2 | 0.881% |
| 2.4.5 | 5 | 2.203% |
| 2.4.4 | 2 | 0.881% |
| 2.4.3 | 2 | 0.881% |
| 2.4.0 | 1 | 0.441% |
| 2.3.8 | 4 | 1.762% |
| 2.3.7 | 7 | 3.084% |
| 2.3.6 | 2 | 0.881% |
| 2.3.5 | 6 | 2.643% |
| 2.3.2 | 8 | 3.524% |
| 2.3.0 | 7 | 3.084% |
| 2.2.9 | 1 | 0.441% |
| 2.2.8 | 4 | 1.762% |
| 2.2.7 | 2 | 0.881% |
| 2.2.6 | 2 | 0.881% |
| 2.2.5 | 2 | 0.881% |
| 2.2.4 | 1 | 0.441% |
| 2.2.3 | 2 | 0.881% |
| 2.2.1 | 2 | 0.881% |
| 2.2.0 | 6 | 2.643% |
| 2.1.8 | 1 | 0.441% |
| 2.1.4 | 1 | 0.441% |
| 2.1.2 | 2 | 0.881% |
| 2.1.1 | 5 | 2.203% |
| 2.1.0 | 1 | 0.441% |
| 2.0.9 | 1 | 0.441% |
| 2.0.8 | 2 | 0.881% |
| 2.0.6 | 1 | 0.441% |
| 2.0.5 | 1 | 0.441% |
| 2.0.2 | 2 | 0.881% |
| 2.0.1 | 2 | 0.881% |