---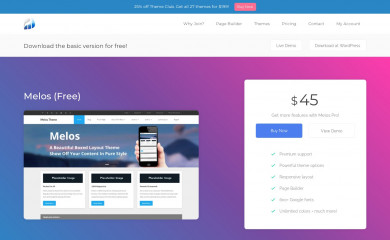 "Melos is the free version of the multi-purpose professional theme (Melos Pro) ideal for a business or blog website. The theme has a responsive layout, HD retina ready and comes with a powerful theme options panel with can be used to make awesome changes without touching any code. The theme also comes with a full width easy to use slider. Easily add a logo to your site and create a beautiful homepage using the built-in homepage layout."
-
ThinkUpThemes
(theme author)
Theme Details
---
| | |
| --- | --- |
| Websites Found | 276 |
| URI | www.thinkupthemes.com/free/melos-free/ |
| Version | 1.4.5 |
| Author | ThinkUpThemes |
| Author URI | www.thinkupthemes.com |
| License | GNU General Public License v2 or later |
| Tags | one-column, two-columns, three-columns, four-columns, right-sidebar, left-sidebar, custom-header, custom-logo, custom-menu, full-width-template, theme-options, threaded-comments, featured-images, featured-image-header, post-formats, sticky-post, translation-ready, flexible-header, custom-background, grid-layout, footer-widgets, blog, e-commerce, portfolio, rtl-language-support |
Popular Sites
---
We crawl the top 1+ million sites and these are the most popular websites we've found using the Melos WordPress theme.
leonardogiombini.it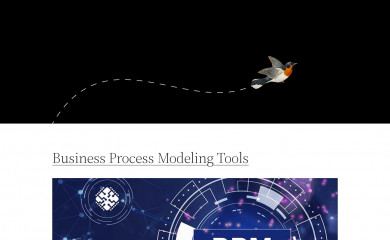 managingworkflow.org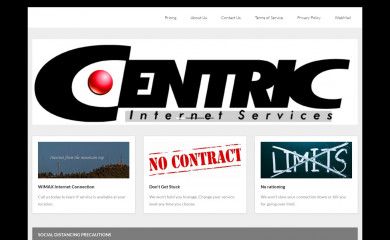 centric.net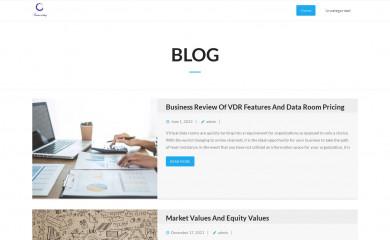 businessrating.pro
metalorphans.com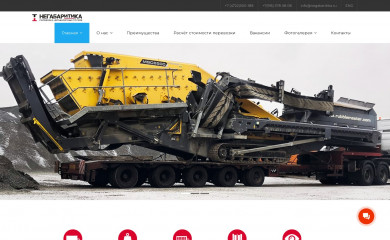 negabaritika.ru
Websites Per Theme Version
| Version | Websites | |
| --- | --- | --- |
| 1.4.5 | 5 | 1.736% |
| 1.4.3 | 5 | 1.736% |
| 1.4.2 | 14 | 4.861% |
| 1.4.0 | 13 | 4.514% |
| 1.3.12 | 25 | 8.681% |
| 1.3.11 | 4 | 1.389% |
| 1.3.10 | 24 | 8.333% |
| 1.3.9 | 27 | 9.375% |
| 1.3.7 | 3 | 1.042% |
| 1.3.6 | 26 | 9.028% |
| 1.3.5 | 3 | 1.042% |
| 1.3.4 | 19 | 6.597% |
| 1.3.3 | 4 | 1.389% |
| 1.3.2 | 1 | 0.347% |
| 1.3.1 | 7 | 2.431% |
| 1.2.9 | 10 | 3.472% |
| 1.2.8 | 2 | 0.694% |
| 1.2.7 | 13 | 4.514% |
| 1.2.6 | 13 | 4.514% |
| 1.2.5 | 3 | 1.042% |
| 1.2.4 | 1 | 0.347% |
| 1.2.3 | 3 | 1.042% |
| 1.2.2 | 2 | 0.694% |
| 1.2.1 | 4 | 1.389% |
| 1.2.0 | 2 | 0.694% |
| 1.1.19 | 4 | 1.389% |
| 1.1.18 | 2 | 0.694% |
| 1.1.17 | 2 | 0.694% |
| 1.1.16 | 4 | 1.389% |
| 1.1.15 | 2 | 0.694% |
| 1.1.13 | 1 | 0.347% |
| 1.1.12 | 3 | 1.042% |
| 1.1.11 | 2 | 0.694% |
| 1.1.10 | 2 | 0.694% |
| 1.1.9 | 2 | 0.694% |
| 1.1.6 | 2 | 0.694% |
| 1.1.4 | 1 | 0.347% |
| 1.1.3 | 1 | 0.347% |
| 1.1.2 | 1 | 0.347% |
| 1.1.1 | 1 | 0.347% |
| 1.0.17 | 3 | 1.042% |
| 1.0.16 | 1 | 0.347% |
| 1.0.11 | 2 | 0.694% |
| 1.0.10 | 1 | 0.347% |
| 1.0.9 | 3 | 1.042% |
| 1.0.8 | 2 | 0.694% |
| 1.0.7 | 3 | 1.042% |
| 1.0.6 | 3 | 1.042% |
| 1.0.4 | 5 | 1.736% |
| 1.0.3 | 2 | 0.694% |