Themes » Catch Everest
---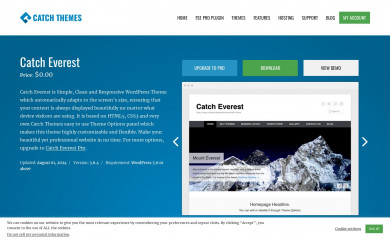 "Catch Everest is Simple, Clean and Responsive WordPress Theme which automatically adapts to the screen's size, ensuring that your content is always displayed beautifully no matter what device visitors are using. It is based in HTML5, CSS3 and very own Catch Themes easy to use Theme Options panel which makes this theme highly customizable and flexible. Make your beautiful yet professional website in no time. Translation Ready and currently translated in Polish, Chinese, Spanish, Italian, German(SWITZERLAND), Russian, Japanese, French, Brazilian Portuguese, Dutch, German, Catalan, Turkish and Bosnian. Check out Theme Instructions at https://catchthemes.com/theme-instructions/catch-everest/, Support at https://catchthemes.com/support/ and Demo at https://catchthemes.com/demo/catch-everest/"
-
Catch Themes
(theme author)
Theme Details
---
| | |
| --- | --- |
| Websites Found | 267 |
| URI | catchthemes.com/themes/catch-everest/ |
| Version | 3.6.1 |
| Author | Catch Themes |
| Author URI | catchthemes.com |
| License | GNU General Public License, version 3 (GPLv3) |
| Tags | one-column, two-columns, left-sidebar, right-sidebar, grid-layout, custom-background, custom-header, flexible-header, custom-menu, custom-logo, featured-image-header, featured-images, footer-widgets, full-width-template, post-formats, sticky-post, theme-options, threaded-comments, translation-ready, blog, education, portfolio |
Popular Sites
---
We crawl the top 1+ million sites and these are the most popular websites we've found using the Catch Everest WordPress theme.
kemperhondenvoeders.nl integralifefinancialservices.com.au aumatt.ch restorethedeschutes.org beachoffice.nl pmazurkiewicz.eu
Websites Per Theme Version
| Version | Websites | |
| --- | --- | --- |
| 3.6.1 | 37 | 14.02% |
| 3.6 | 13 | 4.924% |
| 3.5.2 | 29 | 10.98% |
| 3.5.1 | 3 | 1.136% |
| 3.5 | 6 | 2.273% |
| 3.4 | 2 | 0.758% |
| 3.3.4 | 3 | 1.136% |
| 3.3.3 | 1 | 0.379% |
| 3.3.2 | 10 | 3.788% |
| 3.3.1 | 27 | 10.23% |
| 3.2 | 3 | 1.136% |
| 3.1.2 | 37 | 14.02% |
| 3.1.1 | 6 | 2.273% |
| 3.0.3 | 2 | 0.758% |
| 3.0.2 | 1 | 0.379% |
| 3.0.1 | 5 | 1.894% |
| 3.0 | 2 | 0.758% |
| 2.8 | 2 | 0.758% |
| 2.7.4 | 6 | 2.273% |
| 2.7.1 | 2 | 0.758% |
| 2.6 | 1 | 0.379% |
| 2.5.1 | 6 | 2.273% |
| 2.5 | 3 | 1.136% |
| 2.4 | 1 | 0.379% |
| 2.3 | 3 | 1.136% |
| 2.2.1 | 2 | 0.758% |
| 2.2 | 3 | 1.136% |
| 2.1 | 1 | 0.379% |
| 2.0 | 1 | 0.379% |
| 1.9 | 1 | 0.379% |
| 1.8 | 7 | 2.652% |
| 1.7 | 4 | 1.515% |
| 1.5.4 | 2 | 0.758% |
| 1.5 | 3 | 1.136% |
| 1.4 | 1 | 0.379% |
| 1.3.1 | 7 | 2.652% |
| 1.2.3 | 1 | 0.379% |
| 1.2.1 | 1 | 0.379% |
| 1.1.5 | 2 | 0.758% |
| 1.1.4 | 1 | 0.379% |
| 1.1.2 | 3 | 1.136% |
| 1.1 | 3 | 1.136% |
| 0.3 | 1 | 0.379% |
| 0.2 | 3 | 1.136% |
| 0.1.5 | 2 | 0.758% |
| 0.1.4 | 2 | 0.758% |
| 0.1.2 | 2 | 0.758% |